Once you have a verified Facebook Business Manager Account created and have your Business Manager ID, the next step is to register for a WhatsApp Business account (WABA). Messangi will assist you with the registration of a WABA.
Types of Business Accounts
There are two types of WhatsApp business accounts:
Official Business Account
Business Account
Facebook at its sole discretion, decides if a registration is approved for an Official Business Account or as a Business Account. Customers can choose which one of the accounts types they want and submit the necessary details to apply for an account and Messangi will make every effort to request the account on behalf of the customer.
Name

Description

Official Business Account

WhatsApp has verified that an authentic, notable brand owns this account.

An official business account has a green checkmark badge in its profile and chat thread headers. The name of the business is visible even if the user hasn't added the business to their address book.

Business Account

By default, any account using the WhatsApp Business API or WhatsApp Business App is a business account. WhatsApp verifies authenticity of a brand for every account on the WhatsApp Business API.
Depending on your business account type, users will see different things. If a user has already saved the business number in their address book, the name from their address book will always be displayed. The phone number will still be visible in the contacts view.
Official Business Account
If your WhatsApp account is an official business account, the display name will be visible in the chat list, chat screens, chat groups, and contacts view instead of the phone number. There will be a green checkmark beside the displayed name in the contacts view.

Business Account
If your WhatsApp account is a business account, the display name will only be shown in the contacts view in smaller text; all other views will show the phone number.
You can help customers learn more about your company by filling out your business info, including business website, address, and hours.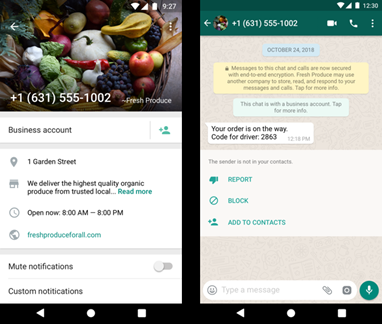 How to apply for a WABA
To apply for a WABA, make sure you have met the following criteria:
Have a

verified

Facebook Business Manager Account
You have retrieved your Business Manager ID
To get started, Contact your account manager and request a form. Make sure you have the following information:
Your Business name
Business website address
A screenshot of your Facebook Business Manager account showing it has been verified.
Facebook page URL
Once you've completed and submitted the WABA request form, an assigned Implementation manager who will apply for the WABA account on your behalf. A request for approval will be sent to the email address associated with the Business Manager ID you provided by WhatsApp. You will need to approve this for Messangi to complete the application. Please note that approval of a WhatsApp Official Business account may take up to 2 weeks. If you are applying for a standard business account, approval may be completed within 48 hours.
The next step after you have an approved WABA, is to provision a Phone Number and Display Name for your service.